Mein erster richtiger Blog Post und es geht gleich mit einer Party los. Schließlich soll man die Feste feiern, wie sie fallen.
Why not start off your first blog post with a bang. Or a party, in my case. Christmas comes but once a year, right!?
Oder vielleicht war genau das der Grund, endlich mal mit dem Blog Schreiben anzufangen. Mach einfach, hat Mathew gesagt.
Or maybe this was the push I needed to finally start this thing called blog writing. Just do it, Mathew told me.
Als echter Näh-Fan und Stoff-Süchtige(r) bist du auf instagram sicher schon Mathew aka @misterdomestic begegnet. Er entwirft, unter anderem, Stoffe für Art Gallery Fabrics und seine letzte Serie Catch & Release durfte von mir und 29 talentierten Mitstreitern aus aller Welt ausgiebig unter die Lupe, ich meine Nadel, genommen werden.
If you are as crazy a sewist and fabric addict as I am, you have certainly met Mathew aka @misterdomestic on Instagram. He – among other things – designs fabric for Art Gallery Fabrics and he offered 30 micro influencers (such a fancy word) to sew with his newest series Catch & Release and make a little (or big) party out of it.
Es gibt neben den 12 Webstoffen in der Serie auch noch 3 Jerseys und einen Viskose-Stoff. Ich habe mich für die gewebte Baumwolle entschieden, um daraus mehrere Projekte für meine Kinder zu nähen.
There are 12 woven cottons in the series, as well as 3 knits and one rayon.
I decided to use the wovens to sew different projects for my kids.
Wenn du Art Gallery Baumwolle schon mal in der Hand hattest, weiß du, dass sie etwas feiner ist, als Baumwolle von anderen Stoffherstellern. Sie lässt sich, finde ich, herrlich vernähen und fühlt sich toll an, gerade bei Kleidung. Die Stoffe halten aber auch jede Taschenidee aus, wenn man sie ordentlich verstärkt.
If you've ever held some Art Gallery cotton in your hand, held it, stroked it (petting fabric is a thing, I'm serious), you know that it's finer than woven cotton from other brands. I find it super easy to sew with and it feels fabulous, especially for garment sewing. But the fabrics also manage every bag project you may throw at them, if interfaced correctly.
Nun aber ans Eingemachte. Für meinen Sohn gab es ein Hemd und eine Shorts nach Schnittmustern aus dem schönen Buch "Modèles cool pour enfants" von Catharine Deweerdt.
Now what did I sew with these fabulous fabrics.
For my son I made a button-up (not down, there's a difference, you can look it up if you like) and some matching shorts. All the patterns for those are from the book "Modèles cool pour enfants" by Catharine Deweerdt.
Ich hatte viel Spaß mit diesen Fischen, alles musste perfekt passen, von der Knopfleiste bis zur aufgenähten Tasche.
I love this "school of fish" fabric, it is absolutely made for fussy cutting. I wanted those buttons and pocket to align perfectly.
Und der Text-Stoff der Hose lädt zum Seele baumeln lassen ein. Einfach treiben lassen, wie Huckleberry Finn, den Fluss hinunter.
And the "River Rules" fabric of the shorts reminds you with some perfect words to sometimes just let the river take you wherever. Like my little Huckleberry Finn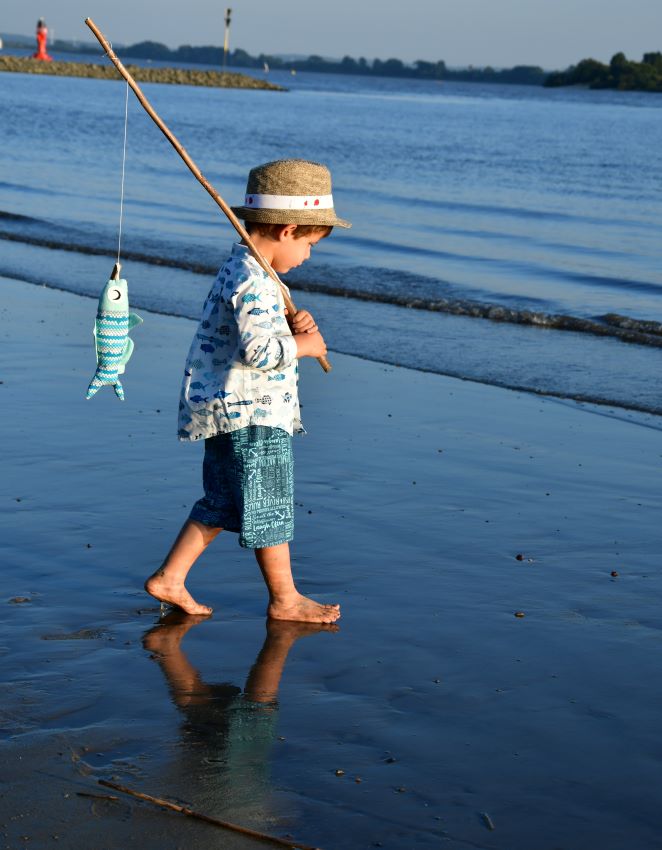 Für meine Große gab es ein neues Peppermint Swirl Dress von Candy Castle Patterns. Wenn du mir schon eine Weile auf instagram folgst, weisst du, es gab dort letztes Jahr schon eine Version zur Schuleinführung.
My girl got a new Peppermint Swirl Dress by Candy Castle Patterns. If you've been there with me for some time on Instagram, you know that I made another version last year for her first day of school.
Dieser Schnitt ist die reinste Freude. Wenn man nicht gerade, wie ich, das Oberteil webt, näht er sich relativ schnell, verbraucht allerdings auch eine Menge Stoff für den Rockteil. Aber welcher Tellerrock, der was von sich hält, tut das nicht.
The pattern is one of my favourite kid garments. If you don't weave the top like I did, it's a rather quick sew, although it uses a lot of fabric for the skirt. As every good twirly skirt, that respects itself, does.
Zum Weben von Stoffen schreibe ich demnächst noch einmal ausführlich. Hier bei dem Oberteil heisst die Vorlage woven star variations von Tara von Wefty Needle.
I'll definitely be writing a more detailed article soon about weaving fabrics. For the bodice of the dress I used the woven star variations by Tara of Wefty Needle.
Ich habe zwischendurch etwas an mir gezweifelt, ob meiner Wahl mit dem Gelb. Aber das Endergebnis kann sich doch sehen lassen, oder?
I wondered about my choice of yellow thoughout the making process, but I think it turned out fabulous. And you?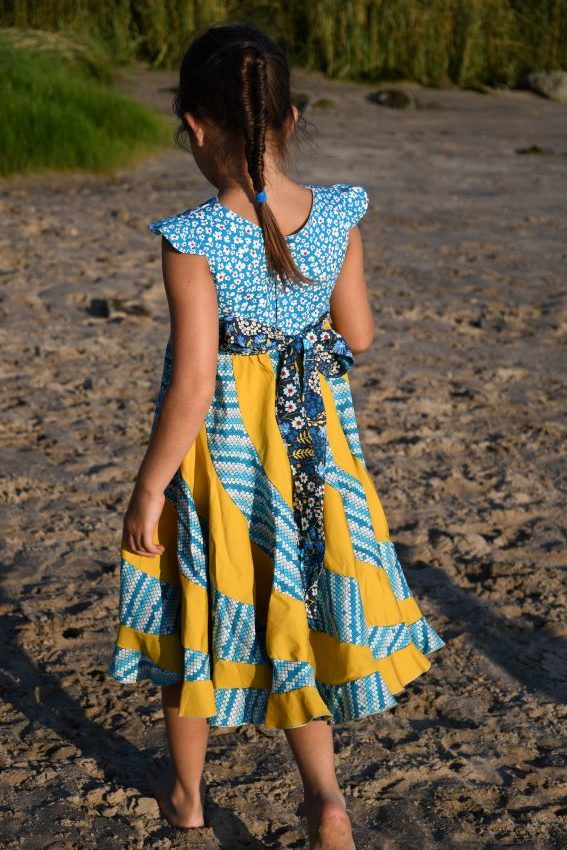 Meine zwei sind auf alle Fälle sehr happy über ihre neuen Klamotten. Und wenn ich nicht alles falsch gemacht habe, passen sie auch nächsten Sommer noch.
Anyway, my sweethearts are happy about their new cloths. And if I did it correctly, they will still fit next summer.
Ich sage danke an Mathew, für die tolle Gelegenheit, mit seinen wunderbaren Stoffen spielen zu können.
I say thank you to Mathew for this amazing opportunity to play with his beautiful fabrics. And for all the help and advice he passed on to use. He's a geniously kind, caring person who loves to share his knowledge.
Schau unbedingt mal bei instagram vorbei, was noch so für die Party genäht wurde und wird. Es ist für mich immer wieder faszinierend, was eine Stoffserie so an unterschiedlichen Ideen hervorbringt.
You should definitely stop by on instagram and look what my fellow makers came up with fort he party. It's endlessly fascinating to me, what you can do with one fabric series.
Bis zum nächsten Mal, until next time,
Madame Tailor
Disclaimer: die Stoffe wurden mir von Mister Domestic kostenlos zur Verfügung gestellt. All fabrics have been offered to me by Mister Domestic.