Was ich unbedingt gerne regelmäßig auf meinem Blog machen möchte, ist, dir Stoffserien vorzustellen, oder unterschiedliche Stoffarten. Stoffe sammeln ist ja sowieso ein Hobby für sich.
I sincerely hope that this will become a regular occurrence on my blog: presenting you a new fabric series or a special kind of fabric. Collecting fabrics is another hobby of mine.
Meine heutige Serie ist momentan ganz viel unter der Nähmaschine und schon nächsten Dienstag, den 24. September, gibt es das Ergebnis zu sehen. Die Rede ist von Dew & Moss von Alexandra Bordallo für Art Gallery Fabrics.
I sew a lot with today's series at the moment, and you will see why next Tuesday, 24th of September. I'm speaking about Dew & Moss by Alexandra Bordallo for Art Gallery Fabrics.
Es gibt ja Stoffe wie Sand am Meer. Und gerade von den Lieblingsdesignern könnte man am liebsten jede neue Stoffserie kaufen. Am besten spielt man dann auch gleich Lotto, denn genügend Stauraum braucht man nach einer Weile auch. Oder man kauft nur mini charm packs. Mini Charm Packs sind sogenannte pre cuts. Davon erzähl ich dir ein andermal.
Fabrics are a dime a dozen out there. One could buy them all, especially from a favourite designer. And at the same time play at the lottery, to buy those fabrics and that house to store them all. Or you only buy mini charm packs, they at least don't take much space. They are so called pre-cuts. I'll tell you about those another time.
Tatsache ist, alles kann man nicht immer kaufen. Ich zumindest nicht. Und auch wenn ich sage, es ist ein anderes Hobby: so schnell näht auch niemand.
Fact is, we can't buy them all. Or at least I can't. And even if I say it's a completely different hobby: I don't sew as fast as I buy them, neither.
Aber Dew & Moss, die mussten unbedingt sein. Es ist Alexandra's allererste Stoffserie für AGF. Und dann gleich so schön!
But I needed Dew & Moss. It's Alexandra's very first fabric series for AGF and already a hit.
Wenn du mir schon eine Weile auf Instagram folgst, weißt du, dass ich ein großer Liebhaber von Pink und Beerentönen bin, dazu etwas Teal, Denim, Grau, oder ich pack gleich den ganzen Regenbogen in meine Werke. Und nur bei letzterem sieht man meistens etwas Grünes.
If you've been following me for some time on instagram, you know that I love all things pink and berry colored, mixing in some teal, denim, grey. Or using the whole rainbow in my makes, in which there would be some green.
Dew and Moss ist vor allem Grün, Orange, Abricot. Nicht eine Spur von Pink oder Blau. Ich bin auch kein Fan von Gartenzwergen. Und trotzdem war es Liebe auf den ersten Blick.
Dew & Moss is mostly greens, orange, abricot. Not a trace of pink or blue. And I'm not really a fan of garden gnomes either. But here we are, love at first sight.
Wie bei Art Gallery Fabrics oft üblich, gibt es die Serie in unterschiedlichen Stoffarten: in diesem Fall 12 gewebte Baumwollstoffe und 3 Jerseys.
As often done at Art Gallery fabrics, the series comes in different substrates, in this case in 12 woven cottons and 3 knits.
Gewebte Baumwolle kann ja alles Mögliche sein: Leinen, Canvas, Taft, und noch viele mehr. Art Gallery macht eine sehr feine, weiche Popeline.
Woven cotton normally can mean a lot of things: linen, canvas, taffeta and a lot more. Art Gallery has a very fine, mercerized poplin cotton.
Jersey ist zwar auch oft aus Baumwolle (mit mehr oder weniger Elasthan), wird allerdings nicht gewebt, sondern gestrickt. Ich finde den englischen Namen "knit" (Strick) da irgendwie auch viel selbsterklärender. Bei Jersey gibt es auch noch zig Unterkategorien, der von AGF ist sehr fein und ich würde ihn eher für Sommersachen oder dünne Shirts benutzen.
Knits are often made of cotton, too (with more or less spandex), but as the name suggests, are a knitted fabric and not a woven one. Knits by AGF are rather fine, very soft and I would probably use them more for summer garments and thin shirts.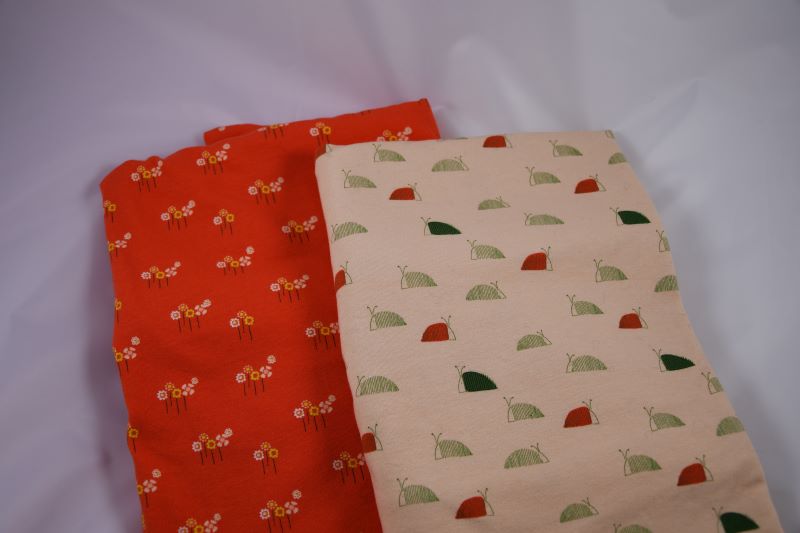 Das sind die zwei Jerseys, die ich zuhause habe: Mosss Snail Mail und Daisy Button Buds. Diese Schnecken mag ich ja besonders. Das war mein erster Kauf von Art Gallery Jerseys und sie fühlen sich wunderbar an. Es gibt noch einen 3. Jersey mit den Gnomen Dew und Moss, nach denen die Stoffserie benannt wurde, auf ihrer Lichtung.
Those are the knits I have at home: Mosss Snail Mail and Daisy Button Buds. I especially love the little snails. It's the first time I bought some AGF knits and at first touch, they feel very nice. There's a third knit fabric with Dew and Moss, the gnomes that series is named after, and their little meadow of mushroom houses and little gardens.
Meine zwei absoluten Lieblinge bevor ich die Stoffe überhaupt in den Händen hatte, waren diese zwei: Jars o Bugs und Playful Mini Bunting. Diese Glühwürmchen-Gläser und Girlanden sind so wunderschön. Und perfekt für alle, die gerne kleine Details ausschneiden und irgendwo hervorheben, auch gerne als fussy cutting bezeichnet.
My absolute favourites before I even touched the fabrics were those two: Jars o Bugs and Playful Mini Bunting. Those jars filled with fireflies and the cutest of buntings are simply wonderful. And perfect, if you like fussy cutting as much as I do.
Das sind die 4 Stoffe in kräftigen Orange- bis sanften Abricot-Tönen. Zu den Glühwürmchen-Gläsern gesellen sich noch niedliche Margeriten mit Marienkäfern und Raupen, kleine Gänseblümchen und ein schöner, neutraler Stoff mit kleinen Sternchen.
These are the 4 fabrics from bold orange tones to a delicate abricot. Accompanying those sweet jars of fireflies are some pretty posies and their ladybug and caterpillar friends, sweet little daisies and a fun neutral with small stars.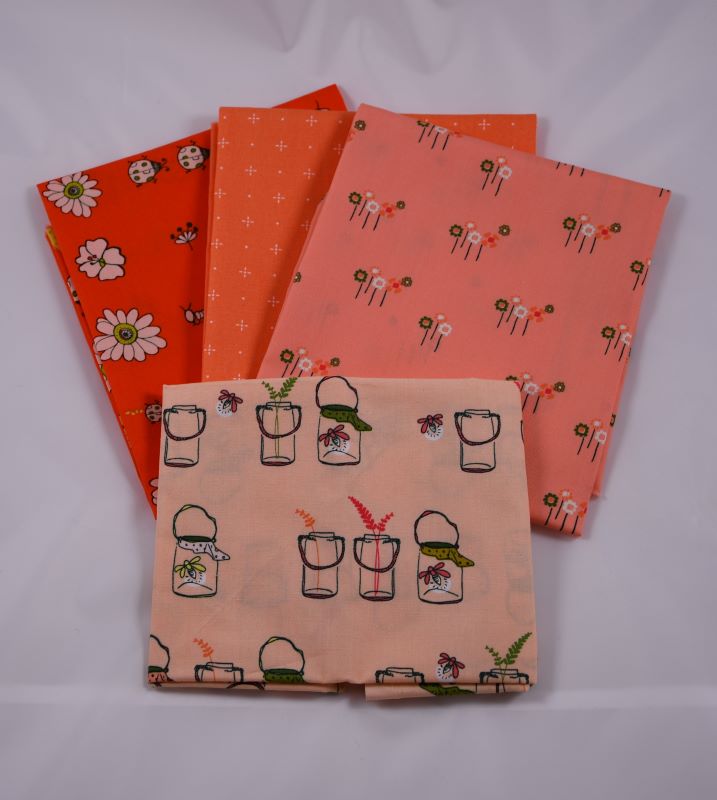 Von Dunkel- bis Limettengrün ist bei der anderen Farbreihe alles dabei. Es gibt eine grüne Variante der Jersey Schnecken, eine herrliche Blumenwiese und ein Tal voller kleiner, hübscher Pilze. Dazu kommen noch zwei neutrale Stoffe: einer in Streifen, Dew's Wäscheleine, und ein nächtlicher Waldhimmel voller stilisierter Glühwürmchen.
In the second color way everything goes, from a dark green to a bright lime. There's a green version of the knit snails, an absolutely gorgeous field of flowers and a cute valley of tiny mushrooms. The two neutral designs are a striped fabric representing Dew's cloth line and a forest night sky alive with flies.
Von der Blumenwiese "Glow Bosque" werdet ihr noch mehr sehen. Die ist beim Vernähen mein dritter Favorit geworden.
You'll be definitely see some more of the Glowy Bosque fabric. It became a third favourite while sewing.
Zusätzlich zur Lichterkette gibt es noch 2 weitere Stoffe auf cremefarbenem Hintergrund: kleine Gnomgesichter, die sich wahrscheinlich auch herrlich zum Besticken eignen. Und noch einmal das Motiv mit Dew und Moss vor ihrem Pilzhaus.
In addition to the bunting, there are 2 more fabrics on a creme background: little gnome face that I just now realize would be perfect to stitch on. And the same Dew and Moss meadow design as in the knits.
Insgesamt finde ich es eine wunderbare Mischung aus Farben und Motiven und bin froh, mal meine pinken Scheuklappen abgelegt zu haben.
I think it's a beautiful mix of colours and whimsical paintings and I'm happy that it made me look beyond my love of pink.
Ich hoffe, du hattest Spaß am virtuellen Stöbern in meinem Stoffschrank.
I hope you had some fun, virtually going through my fabric stash.
Bis zum nächsten Mal, until next time,
Madame Tailor